What is Wisdom? An Interview with Donna M Thomas and Marriah Star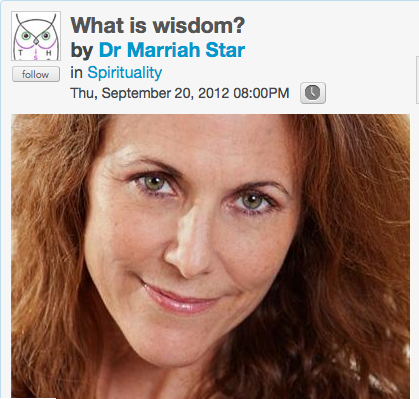 Mark Your Calendar!
I'm SUPER excited to let you know that I'll be interviewed on:
"The Wisdom Hour"
With Marriah Starr
Thursday, September 20
8pm – 11pm PDT!
http://www.blogtalkradio.com/marriahstar/2012/09/21/what-is-wisdom
Join us on this call!
Marriah, a very intelligent man and lecturer at Northeastern University, will be interviewing me and discussing my upcoming memoir,
From Pebbles to Pathways: A Journey of Healing the Heart, One Insight at a Time.
I have absolutely no idea what he's going to ask me, so it should be interesting!
Be one of the FIRST 10 PEOPLE on the call, and you'll win a FREE copy of my new book! (U.S. residents only.  Outside us callers will receive a digital copy.)
FYI – Marriah will be talking for the first 30 min, so if you come on and don't hear us conversing, I'll be on shortly.  Also, if you come on the call and hear a cool song playing, that's his format.
Look forward to having you on the call!
Donna M Thomas
Author, Intuitive Life & Empowerment Coach, Integrative Healing Conduit, Mastery Group Leader
*************
 P.S.  My book is due out late in OCTOBER.  If you're curious about it, here is a link showing some pre-publication reviews I've received https://donna-thomas.com/from-pebbles-to-pathways/reviews/