What Is Wisdom: An Interview TONIGHT with Donna M Thomas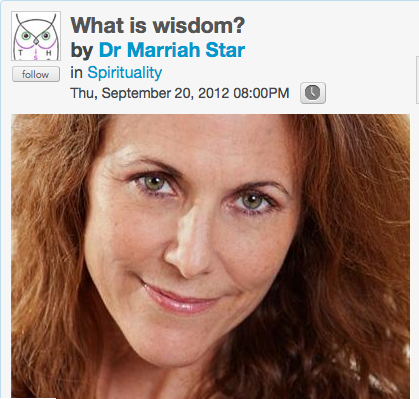 Join me on this interview!
"The Wisdom Hour"
With Marriah Star
TONIGHT, January 21st
8pm – 10pm PDT
To both listen to the show LIVE or listen to the RECORDING afterwards.
http://www.blogtalkradio.com/marriahstar/2013/01/22/what-is-wisdom
To talk with us during the show, use the phone number displayed on the site.
Marriah, lecturer at Northeastern University, will be interviewing me on my NEW memoir, From Pebbles to Pathways: A Journey of Healing the Heart, One Insight at a Time.
I have absolutely no idea what he's going to ask me, so it should be interesting!
Be one of the FIRST 5 PEOPLE to ask a question or make a comment on the call, and you'll win a FREE copy of my new book! (U.S. residents only.  Outside us callers will receive a digital copy.)
FYI – Marriah will be talking for the first 15 – 30 min, so if you come on and don't hear us conversing, I'll be on shortly.  Also, if you come on the call and hear him talking or playing a recording, that's his format.
Look forward to having you on the call!
Donna M Thomas
"The Shift Kicker"
Intuitive Life & Empowerment Coach, Integrative Healing Conduit, Mastery Group Leader
Look for my new book From Pebbles to Pathways:
A Journey of Healing the Heart One Insight at a Time
NOW available online at Amazon and Barnes & Noble!
https://donna-thomas.com/from-pebbles-to-pathways/